Sunway Medical Centre Partners With Taylor's University In Clinical Training And Research
28 January 2022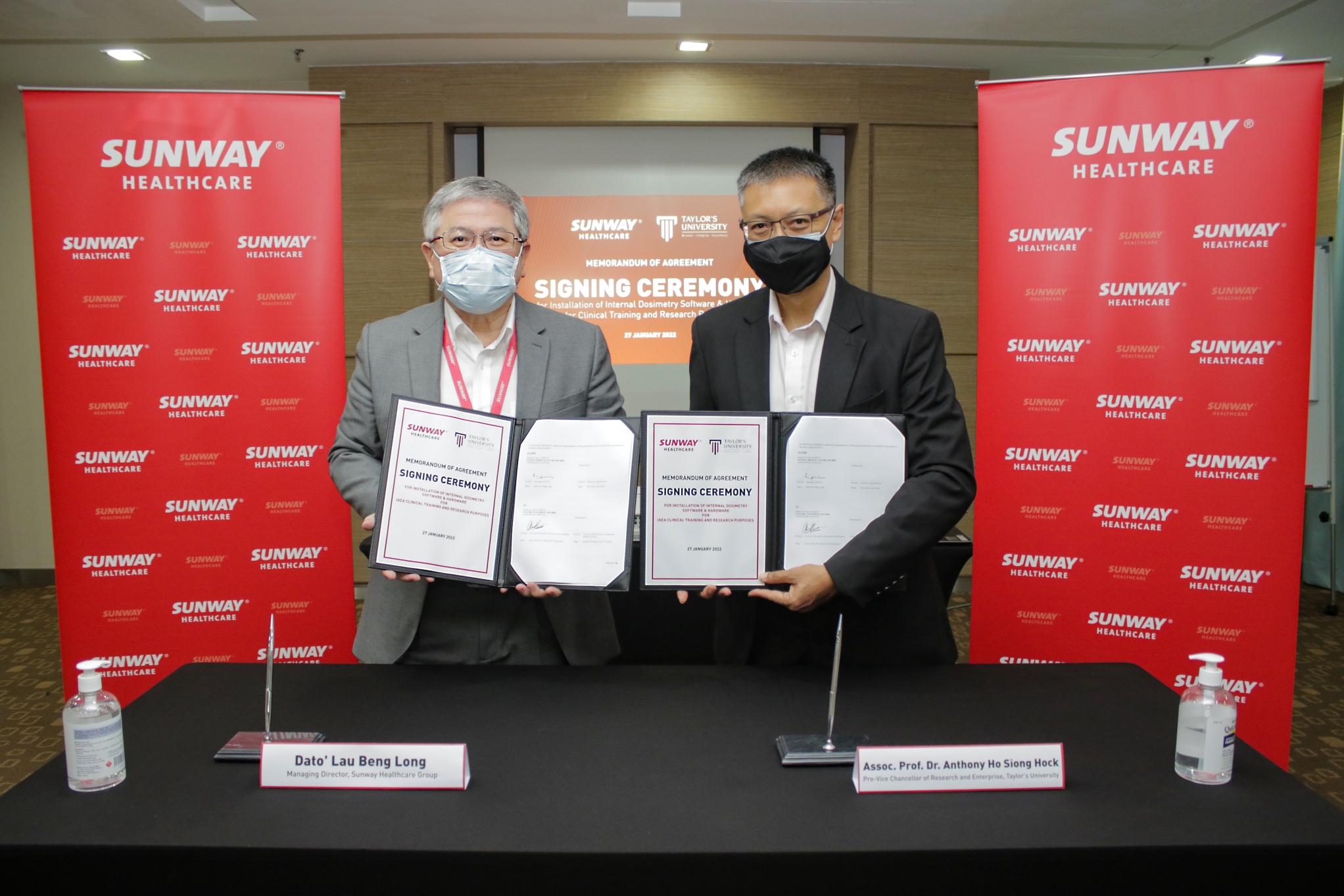 Sunway Medical Centre and Taylor's University are partnering as joint regional training institutions in radionuclide therapy for cancer treatments.
The International Atomic Energy Agency (IAEA) has recently appointed Taylor's University as the regional training hub, granting them the usage of a state-of-the art internal radiation dosimetry software and hardware, to be utilised at Sunway Medical Centre's Nuclear Medicine Centre for the purpose of clinical training and research upon approval by relevant governing body such as Research Ethics Committee.
In this partnership, Taylor's University, will lead the organisation of educational and clinical training programmes for medical physicists in the Asia-Pacific region at the premises of Sunway Medical Centre where, the internal dosimetry software and hardware will be installed.
Sunway Medical Centre's Nuclear Medicine Centre is part of the award-winning Sunway Cancer Centre that is internationally accredited as the Designated Centre of Integrated Oncology and Palliative Care by the European Society for Medical Oncology (ESMO).
Nuclear medicine is a medical speciality involving the application of radiopharmaceuticals in the diagnosis and treatment of disease especially in oncology. Sunway Medical Centre's consultant nuclear medicine physician, Dr Tan Teik Hin, explained: "Dosimetry is the key component in radiation therapy to ensure sufficient radiation dose being delivered into the tumour lesions, while keeping the radiation to normal tissues as low as reasonably achievable."
"Individualised radiation dosimetry, rather than a one-size-fits-all approach, is critical for providing the most effective and safest targeted radionuclide therapy for each patient. Thanks to the IAEA and Taylor's University, we can now together provide such training to medical physicists in the Asia Pacific region," Dr Tan elaborated.
Assoc Prof Dr Yeong Chai Hong, medical physicist at the School of Medicine of Taylor's University Lakeside Campus said: "We are honoured to collaborate with the IAEA and Sunway Medical Centre to be the training hub for internal radiation dosimetry of radionuclide therapy in the Asia-Pacific region. Under this agreement, the hardware and software package will be installed at Sunway Medical Centre and utilised for regional training, research and in-house clinical applications in radionuclide therapy. This collaboration will enhance the development of targeted radionuclide therapy in the region and more patients will benefit from this."
"Internal dosimetry software is an advanced calculation software that can help Medical Physicists to estimate the actual radiation dose for medical conditions that require radionuclide therapies such as thyroid cancer, neuroendocrine tumour, advanced prostate cancer, advanced hepatocellular carcinoma (HCC) and liver metastases of malignancies," said Dr Heng Siew Peng, general manager cum chief medical physicist at Sunway Cancer Centre.
Dr Heng added that Sunway Medical Centre is one of the earliest private hospitals with a nuclear medicine unit to establish radionuclide therapy.
Dato' Lau Beng Long, managing director of Sunway Healthcare Group (SHG) noted, "This forms yet another important milestone for us in terms of collaboration for continuous advancement of clinical knowledge and practice. This partnership will further cement Sunway Medical Centre's strength in this field to support the development and advancement of other nuclear medicine centres in Malaysia and in the region on internal dosimetry for radionuclide therapy."
With the aim of shaping the future of health care, SHG has embarked on strategic collaborations in the domain of medicine, clinical research, and medical education with internationally renowned institutions such as University of Cambridge, Royal College of Physicians, Royal Papworth Hospital and Harvard Medical School for the continuous development of health care professionals.
Source: Code Blue
Back