Sunway Medical Centre Partners with United Imaging Healthcare to Optimise Molecular Imaging Protocols in Cancer Diagnosis
03 September 2022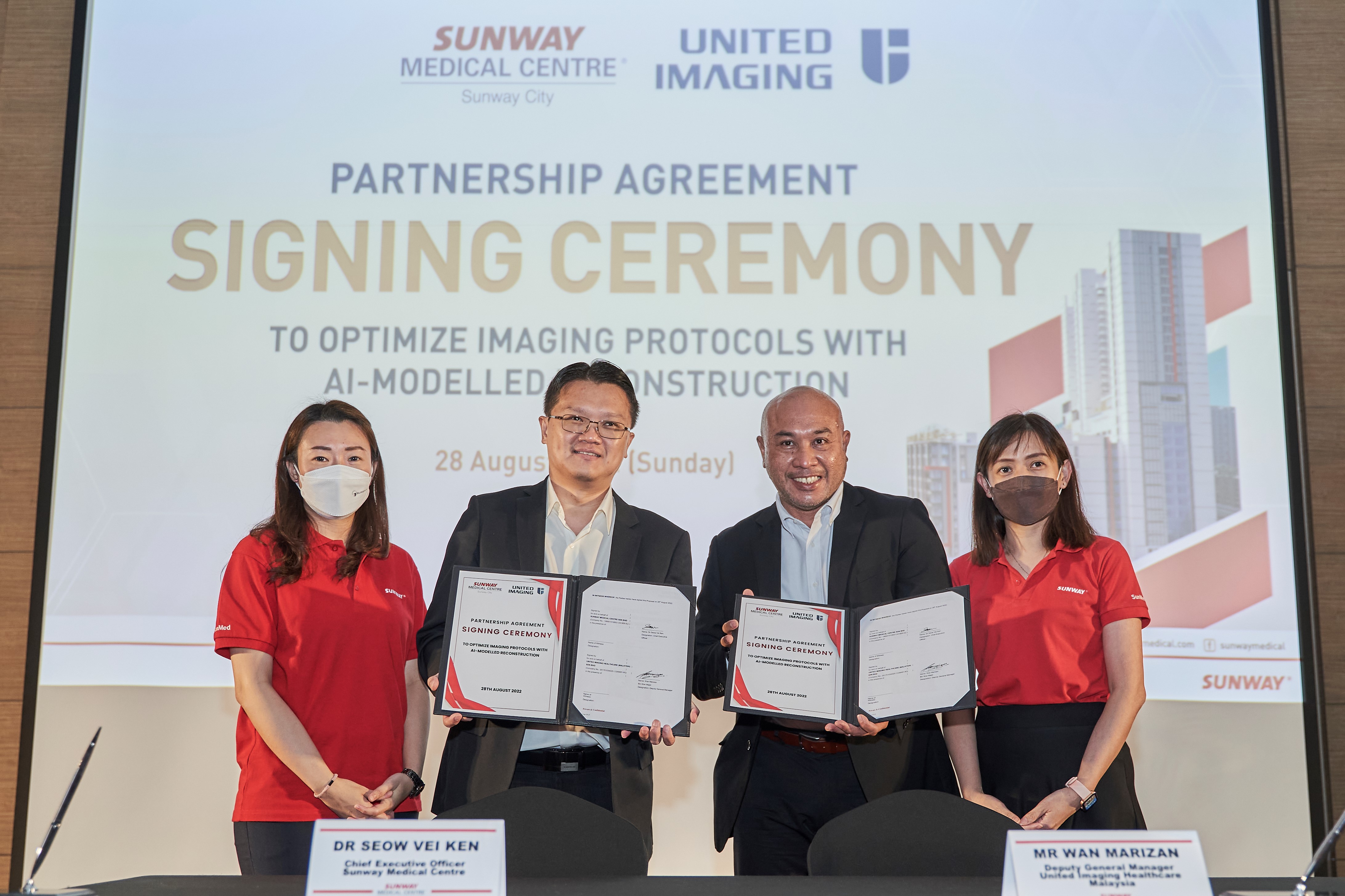 Sunway Medical Centre and United Imaging Healthcare (UIH) are collaborating to optimise molecular imaging protocols using artificial intelligence (AI) modelled reconstruction for cancer diagnosis.
With this partnership, Sunway Medical Centre will be the first hospital in Southeast Asia to acquire UIH's state-of-the-art digital PET/CT system, the uMI780. The ultra-fast, high resolution digital PET/CT transforms traditional imaging by offering whole body coverage with the widest 30cm digital axial field of view.
"The system provides the best NEMA resolution scores in the industry at 2.9mm, which translates to greater imaging clarity and accuracy in detecting small lesions. It is also highly sensitive with high speeds that enable quick data acquisition with a low dose compared to conventional systems," explained Dr Heng Siew Peng, General Manager, Sunway Cancer Centre.
"Sunway Medical Centre is poised to provide world-class healthcare services and we are proud to cooperate with such an important partner in Malaysia. Every life is equal and precious, and we hope our endeavour will optimise the cancer treatment process and ensure that compassionate care is given to each patient. This is also in line with our mission 'To Bring Equal Healthcare for All'," said Evan Wang, General Manager, UIH Southeast Asia.
Sunway Medical Centre, the flagship hospital of Sunway Healthcare Group, will be the first private hospital in Malaysia to utilise two PET/CT systems concurrently, which improves the hospital's operational efficiency, thus reducing waiting time for patients.
UIH has appointed Sunway Medical Centre as a regional hub and key opinion leader, where a team of UIH experts and healthcare professionals in Sunway Medical Centre will come together to demonstrate the full potential of the uMI780 as well as cultivate knowledge sharing on the advantages of digital PET/CT.
"We are honoured to be partnering with UIH to become a regional research hub in the Asia region. This marks another important milestone in our efforts to promote continuous advancement in clinical knowledge and practice. This partnership will secure Sunway Medical Centre's position as a leader in the field of nuclear medicine and molecular imaging in Malaysia and in Asia," said Dr Seow Vei Ken, Chief Executive Officer, Sunway Medical Centre.
Oncology & MIS Symposium 2022
The partnership culminated in a Partnership Agreement signing held in line with Sunway Medical Centre's Oncology & MIS Symposium 2022. The event explored new approaches and advancements in cancer screening, diagnosis and treatment where distinguished specialists shared their expertise on cervical, lung and prostate cancer. The hybrid event had more than 400 participants at SunMed Convention Centre and on Zoom, comprising mainly healthcare professionals and general practitioners.
"The World Health Organisation (WHO) estimates that 9.6 million people worldwide have died from cancer in 2018 and in Malaysia, there is a significant increase in the number of newly diagnosed cancer cases between 2012 and 2016, according to the Malaysia National Cancer Registry (MNCR) Report 2012-2016. Yet, 30% to 50% of cancers can be prevented through effective prevention, early detection programmes and enhanced public awareness.
"Sunway Cancer Centre believes that cancer is not the end and strives to provide a holistic, compassionate approach to the disease – from diagnosis to recovery. Our dedicated team of oncology professionals offer personalised advanced treatment for all stages of cancer, ensuring our patients' quality of life," said Dr Seow in his opening address.
The symposium addressed the three leading cancers in Malaysia and the advancements in cancer diagnostics in separate panel discussions. The first panel on cervical cancer had Consultant Gynaecologist, Gynaecology Oncology and Robotic Surgeon, Dr Thangesweran Ayakannu and Consultant Obstetrician, Gynaecologist and Fertility Specialist, Dr Kannappan Palaniappan, and Sunway Traditional and Complementary Medicine (TCM) Centre Medical Director and Consultant TCM Physician, Dr Lim Ren Jye who explored the advantages of minimally invasive surgery, the role of TCM in cancer management and fertility preservation for young female cancer patients.
Lung cancer was discussed in the next panel session where Consultant Clinical Oncologists, Dr Christina Lai Nye Bing and Dr Jennifer Leong Siew Mooi respectively shared how immunotherapy works and personalised treatment for lung cancer brain metastases. Meanwhile, Yong Jie See, Senior Medical Physicist at Sunway Cancer Centre spoke about the benefits of radiation therapy in the early stages of lung cancer.
"Cancer is more likely to respond to effective treatment when identified early, resulting in a greater probability of surviving as well as less morbidity and less expensive treatment. We have surely come a long way in the development of genetic testing, ablation techniques and CT scans, which has allowed us to effectively diagnose cancer," said Dr Christina who moderated the panel session with Dr Khor Phay Phay, Consultant Nuclear Medicine Physicist, Dr Pradesh Kumar, Consultant Interventional Radiologist, and Dr Hoo Hui Ling, Consultant Anatomical Pathologist.
Finally, Consultant Urologists and Robotic Surgeons, Dr Badrulhisham Bahadzor and Dr Murali Sundram, and Consultant Clinical Oncologist, Dr Ivan Shew Yee Siang explored the diagnosis, screening, progress in radiotherapy and robotic surgery for prostate cancer, the third most common cancer in men in Malaysia, in the last panel session of the day.
The symposium ended on a high note with key learnings and takeaways from each panellist. As the largest private quaternary hospital in Malaysia, Sunway Medical Centre strives to encourage discussion on the latest clinical practices and adopts the best practices throughout the hospital.
Source: Health Matters
Back