From Menstruation to Menopause
29 May 2022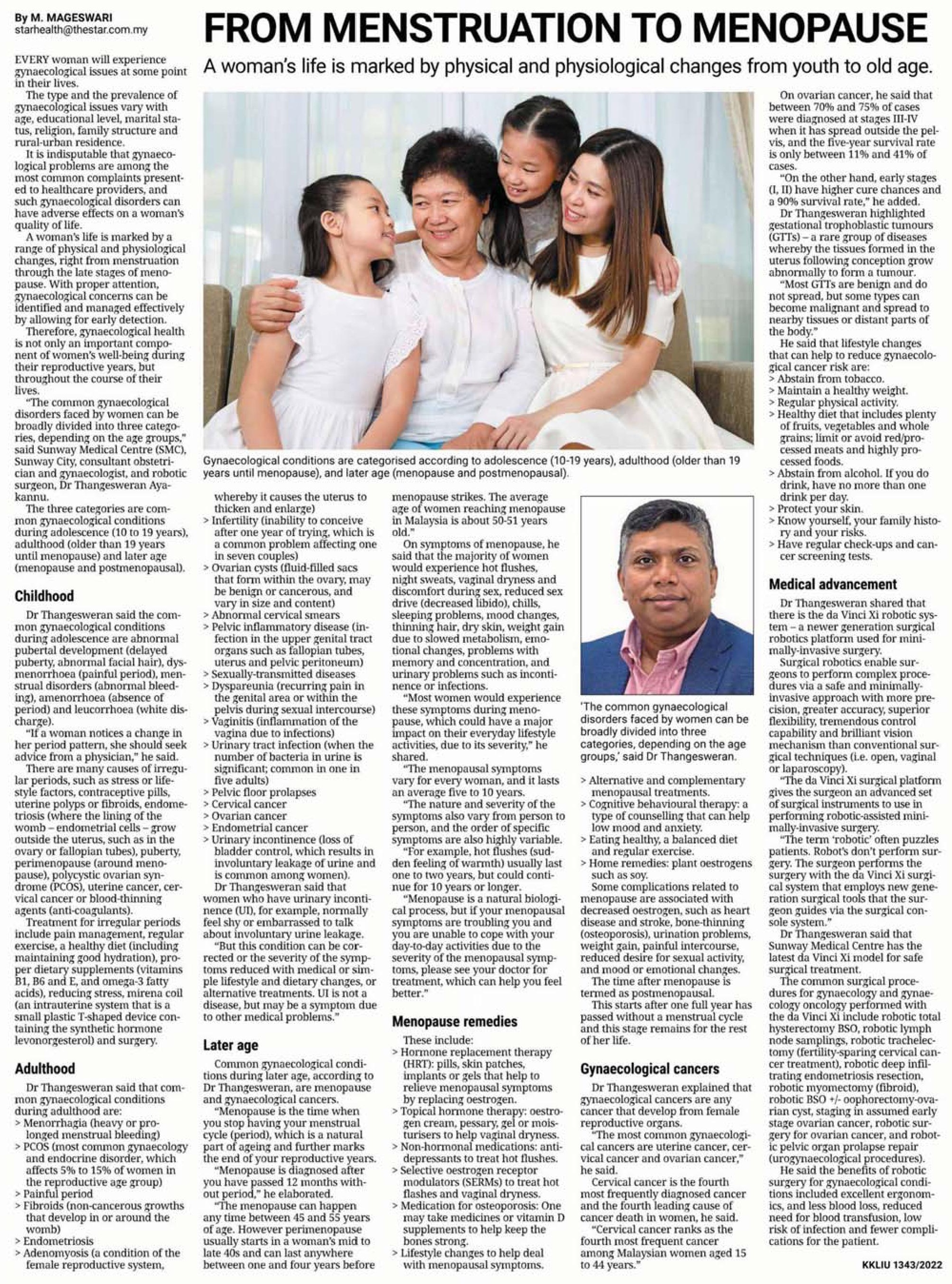 Every woman would experience gynaecological issues at some point in their lives.
The type and the prevalence of gynaecological issues vary with age, educational level, marital status, religion, family structure and rural-urban residence.
It is indisputable that gynaecological problems are among the most common complaints presented to healthcare providers, and such gynaecological disorders can have adverse effects on a woman's quality of life.
A woman's life is marked by a range of physical and physiological changes, right from menstruation through the late stages of menopause. With proper attention, gynaecological concerns can be identified and managed effectively by allowing for early detection.
Therefore, gynaecological health is not only an important component of women's wellbeing during their reproductive years, but throughout the course of their lives.
"The common gynaecological disorders faced by women can be broadly divided into three categories, depending on the age groups," said Sunway Medical Centre (SMC), Sunway City consultant obstetrician and gynaecologist, and robotic surgeon Dr Thangesweran Ayakannu.
The three categories are common gynaecological conditions during adolescence (10 to 19 years), adulthood (older than 19 years until menopause), and later age (menopause and postmenopausal).
Childhood
Dr Thangesweran said the common gynaecological conditions during adolescence are abnormal pubertal development (delayed puberty, abnormal facial hair), dysmenorrhea (painful period), menstrual disorders (abnormal bleeding), amenorrhea (absence of period) and leucorrhoea (white discharge).
"If a woman notices a change in her period pattern, she should seek advice from a physician," he said.
There are many causes of irregular periods, such as stress or lifestyle factors, contraceptive pill, uterine polyps or fibroids, endometriosis (the lining of the womb – endometrial cells – grows outside the uterus such as in the ovary, fallopian tubes), puberty, perimenopause (around menopause), polycystic ovarian syndrome (PCOS), uterine cancer, cervical cancer or blood thinning agents (anticoagulants).
Treatment for irregular period include pain management, regular exercise, healthy diet (maintain good hydration), proper dietary supplements (Vitamins B1, B6 and E, Omega 3 fatty acids), reducing stress, mirena coil (an intrauterine system that is a small plastic T-shaped device containing the progesterone hormone levonorgesterol), and surgery.
Adulthood
Dr Thangesweran said that common gynaecological conditions during adulthood are:
> Menorrhagia (heavy or prolonged menstrual bleeding)
> PCOS (most common gynaecology and endocrine disorder, which affects 5% to 15% of women in the reproductive age group)
> Painful period
> Fibroids (non-cancerous growths that develop in or around the womb)
> Endometriosis
> Adenomyosis (a condition of the female reproductive system, whereby it causes the uterus to thicken and enlarge)
> Infertility (inability to conceive after one year of trying, and common problem affecting one in seven couples)
> Ovarian cysts (fluid-filled sac that form within the ovary, may be benign or cancerous, and varies in size and content)
> Abnormal cervical smears
> Pelvic inflammatory disease (infection in the upper genital tract organs such as fallopian tubes, uterus, pelvic peritoneum)
> Sexually transmitted disease
> Dyspareunia (recurring pain in the genital area or within the pelvis during sexual intercourse)
> Vaginitis (inflammation of the vagina due to vaginal infections)
> Urinary tract infection (when the number of bacteria in urine is significant, common in one in five adults)
> Pelvic floor prolapses
> Cervical cancer
> Ovarian cancer
> Endometrial cancer
> Urinary incontinence (loss of bladder control which results in involuntary leakage of urine and is common among women).
Dr Thangesweran said that women who have urinary incontinence (UI), for example, normally feel shy or embarrassed to talk about involuntary urine leakage.
"But this condition can be corrected or the severity of the symptoms reduced with medical or simple lifestyle and dietary changes, or alternative treatment. UI is not a disease, but may be a symptom due to other medical problems."
Later age
Common gynaecological conditions during later age, according to Dr Thangesweran, are menopause and gynaecological cancers.
"Menopause is the time when you stop having your menstrual cycle (period), which is a natural part of ageing and further marks the end of your reproductive years. Menopause is diagnosed after you have passed 12 months without period," he elaborated.
"The menopause can happen any time between 45 and 55 years of age. However perimenopause usually starts in a woman's mid to late 40s and can last anywhere between one and four years before menopause strikes. The average age of women reaching menopause in Malaysia is about 50-51 years old."
On symptoms of menopause, he said that the majority of women would experience hot flushes, night sweats, vaginal dryness and discomfort during sex, reduced sex drive (decreased libido), chills, sleeping problems, mood changes, thinning hair, dry skins, weight gain due to slowed metabolism, emotional changes, problems with memory and concentrations, urine problem such as incontinence or urine infections.
"Most women would experience these symptoms during menopause which could have a major impact on their everyday lifestyle activities, due to its severity," he shared.
"The menopausal symptoms vary for every woman, and it lasts an average five to 10 years. The nature and severity of the symptoms also vary from person to person, and the order of specific symptoms are also highly variable. For example, hot flushes (sudden feeling of warmth) usually last one to two years, but could continue for 10 years or longer.
"Menopause is a natural biological process, but if your menopausal symptoms are troubling you and you are unable to cope with your day-to-day activities due to the severity of the menopausal symptoms, please see your doctor for treatment, which can help you feel better."
Menopause remedies
> Hormone replacement therapy (HRT): pills, skin patches, implants or gels that help to relieve menopausal symptoms by replacing estrogen.
> Topical hormone therapy: oestrogen cream, pessary, gel or moisturisers to help vaginal dryness.
> Non hormonal medications: antidepressants to treat hot flushes.
> Selective oestrogen receptor modulators (SERMs) to treat hot flashes and vaginal dryness.
> Medication for osteoporosis: One may take medicines or Vitamin D supplements to help to keep the bone strong.
> Lifestyle changes to help women deal with menopausal symptoms.
> Alternative and complementary menopausal treatment.
> Cognitive behavioural therapy: a type of counselling that can help low mood and anxiety.
> Eating healthy, a balanced diet and regular exercise.
> Home remedies: plant oestrogens such as soy.
Some complications related to menopause are associated with decreased oestrogen, such as heart disease and stroke, bone thinning (osteoporosis), urination problems, weight gain, painful intercourse, reduced desire for sexual activity, and mood or emotional changes.
The time after menopause is termed as postmenopausal. This starts after one full year has passed without a menstrual cycle and this stage remains for the rest of her life.
Gynaecological cancers
Dr Thangesweran explained that gynaecological cancers are any cancer that develops from female reproductive organs.
"The most common gynaecological cancers are uterine cancer, cervical cancer and ovarian cancer," he said.
Cervical cancer is the fourth most frequently diagnosed cancer and the fourth leading cause of cancer death in women, he said.
"Cervical cancer ranks as the fourth most frequent cancer among Malaysian women aged 15 to 44 years."
On ovarian cancer, he said that between 70% and 75% of cases were diagnosed at stages III-IV when it has spread outside the pelvis, and the five-year survival rate is only between 11% and 41% of cases.
"On the other hand, early stages (I, II) have higher cure chances and 90% survival rate," he added.
Dr Thangesweran highlighted gestational trophoblastic tumours (GTTs) – a rare group of diseases whereby the tissues formed in the uterus following conception grow abnormally to form a tumour.
"Most GTTs are benign and do not spread, but some types can become malignant and spread to nearby tissues or distant parts of the body."
He said that lifestyle changes that can help to reduce gynaecological cancer risk are:
> Abstain from tobacco.
> Maintain a healthy weight.
> Regular physical activity.
> Healthy diet that includes plenty of fruits, vegetables, and whole grains; limit or avoid red/processed meats and highly processed foods.
> Abstain from alcohol. If you do drink, have no more than one drink per day.
> Protect your skin.
> Know yourself, your family history, and your risks.
> Have regular check-ups and cancer screening tests.
Medical advancement
Dr Thangesweran shared that there is the da Vinci Xi robotic system – a newer generation surgical robotics platform used for minimally invasive surgery.
Surgical robotics enable surgeons to perform complex procedures via a safe and minimally invasive approach with more precision, greater accuracy, superior flexibility, tremendous control capability and brilliant vision mechanism than conventional surgical techniques (open, vaginal or laparoscopy).
"The da Vinci Xi surgical platform gives the surgeon an advanced set of surgical instruments to use in performing robotic-assisted minimally invasive surgery.
"The term 'robotic' often puzzles patients. Robot's don't perform surgery. The surgeon performs the surgery with the da Vinci Xi surgical system that employs new generation surgical tools that the surgeon guides via the surgical console system."
Dr Thangesweran said that Sunway Medical Centre has the latest da Vinci Xi model for safe surgical treatment.
The common surgical procedures for gynaecology and gynaecology oncology performed with the da Vinci Xi include robotic total hysterectomy BSO, robotic lymph node samplings, robotic trachelectomy (fertility sparing cervical cancer treatment), robotic deep infiltrating endometriosis resection, robotic myomectomy (fibroid), robotic BSO +/- oophorectomy-ovarian cyst, staging in assumed early stage ovarian cancer, robotic surgery for ovarian cancer and robotic pelvic organ prolapse repair (urogynaecological procedures).
He said the benefits of robotic surgery for gynaecological conditions included excellent ergonomics, and the patient would have less blood loss, reduced need for blood transfusion, low risk of infection and fewer complications.
Source: The Star
Back