Petaling district private hospital workers jabbed
12 March 2021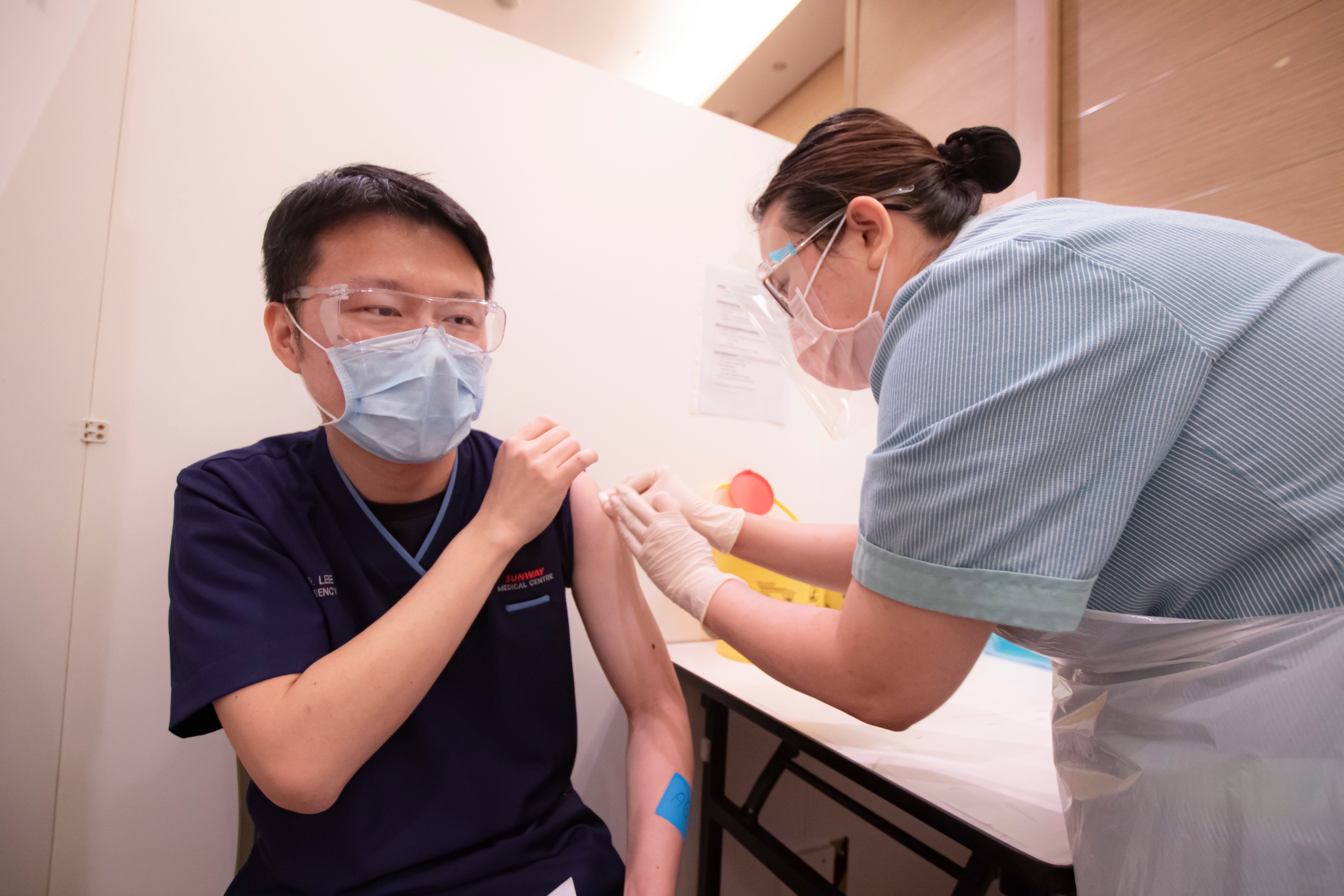 It is not very often that private hospitals work with one another but when it comes to the fight against the Covid-19 pandemic, there is solidarity and cooperation between them.
In the Petaling district, several private hospitals have teamed up in the opening of a vaccination centre at Sunway Medical Centre.
Its medical director Dr Seow Vei Ken said while their staff were largely responsible for the administering of vaccines, other hospitals seconded their staff for administrative work, triage, command centre and post vaccination observations.
"When it comes to Covid-19, our common enemy, we work together to fight it," Dr Seow said yesterday, the second day of the vaccination programme for medical frontliners.
He said extensive preparations had been undertaken before starting the programme to avoid wastage of the Pfizer BioNTech vaccines.
The hospital kicked off the first phase of the National Covid-19 Vaccination Programme on Wednesday after it was designated a vaccination centre in Petaling district.

The centre serves as a vaccination centre for frontliners from Assunta Hospital, Columbia Asia Hospital Puchong, Columbia Asia Hospital Petaling Jaya, Kelana Jaya Medical Centre, KPMC Bandar Puteri, Salam Shah Alam Specialist Hospital, Thomson Hospital, Tun Hussein Onn National Eye Hospital, QHC Hospital and Hospital Bersalin, Klinik Pakar & PoliKlinik Pusat Rawatan Islam Pusrawi.
Dr Seow said the first phase was to vaccinate more than 3,000 private healthcare frontliners in Petaling in March and April.
"We are all in the same boat. The pandemic has had an impact on the economy and vaccinations may be the best way to get out of it," he said.
Trecia Wan, a nurse from the hospital, received her first dose of the vaccine despite recovering from knee surgery.
"I feel lucky to be vaccinated," she said, adding that she also felt privileged she would be starting work in the Covid-19 ward soon.
Dr Nik Wan Rosmini from the Salam hospital said she was excited to get the vaccination.
"The pandemic has affected us in so many ways. I hope everyone who can be vaccinated will come forward to do so," she said, adding a lot of testing had gone into the process of producing vaccines.
Source: The Star
Back