Sunway Healthcare Group targets 2,000 beds
15 November 2019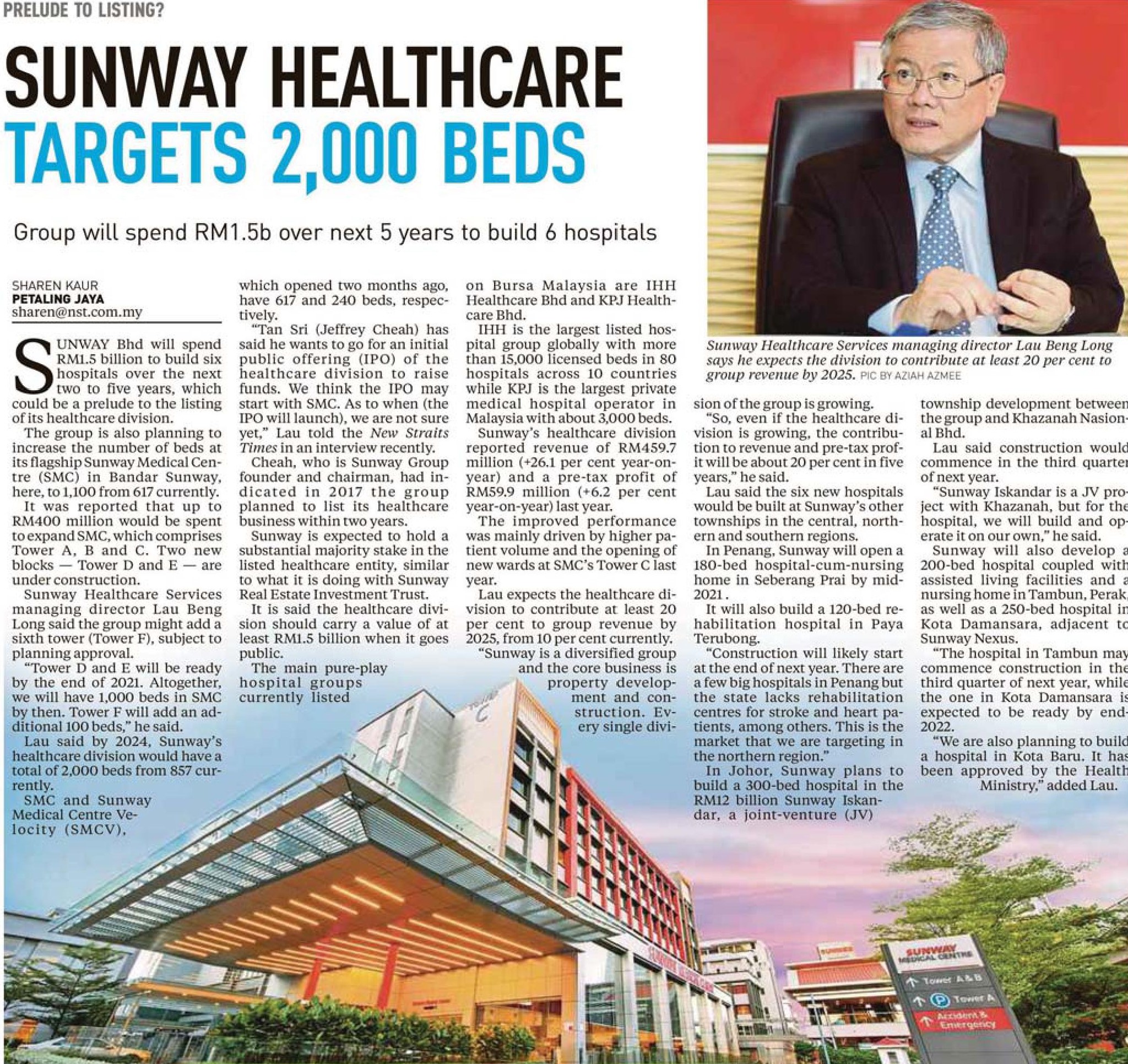 Sunway Bhd will spend RM1.5 billion to build six hospitals over the next two to five years, which could be a prelude to the listing of its healthcare division.
The group is also planning to increase the number of beds at its flagship Sunway Medical Centre (SMC) in Bandar Sunway, here, to 1,100 from 616 currently.
It was reported that up to RM400 million would be spent to expand SMC, which comprises Tower A, B and C. Two new blocks — Tower D and E — are under construction.
Sunway Healthcare Services managing director Lau Beng Long said the group might add a sixth tower (Tower F), subject to planning approval.
"Tower D and E will be ready by the end of 2021. Altogether, we will have 1,000 beds in SMC by then. Tower F will add an additional 100 beds," he said.
Lau said by 2024, Sunway's healthcare division would have a total of 2,000 beds from 857 currently.
SMC and Sunway Medical Centre Velocity (SMCV), which opened two months ago, have 616 and 240 beds, respectively.
"Tan Sri (Jeffrey Cheah) has said he wants to go for an initial public offering (IPO) of the healthcare division to raise funds. We think the IPO may start with SMC. As to when (the IPO will launch), we are not sure yet," Lau told the New Straits Times in an interview recently.
Cheah, who is Sunway Group founder and chairman, had indicated in 2017 the group planned to list its healthcare business within two years.
Sunway is expected to hold a substantial majority stake in the listed healthcare entity, similar to what it is doing with Sunway Real Estate Investment Trust.
It is said the healthcare division should carry a value of at least RM1.5 billion when it goes public.
The main pure-play hospital groups currently listed on Bursa Malaysia are IHH Healthcare Bhd and KPJ Healthcare Bhd.
IHH is the largest listed hospital group globally with more than 15,000 licensed beds in 80 hospitals across 10 countries while KPJ is the largest private medical hospital operator in Malaysia with about 3,000 beds.
Sunway's healthcare division reported revenue of RM459.7 million (+26.1 per cent year-on-year) and a pre-tax profit of RM59.9 million (+6.2 per cent year-on-year) last year.
The improved performance was mainly driven by higher patient volume and the opening of new wards at SMC's Tower C last year.
Lau expects the healthcare division to contribute at least 20 per cent to group revenue by 2025, from 10 per cent currently.
"Sunway is a diversified group and the core business is property development and construction. Every single division of the group is growing.
"So, even if the healthcare division is growing, the contribution to revenue and pre-tax profit will be about 20 per cent in five years," he said.
Lau said the six new hospitals would be built at Sunway's other townships in the central, northern and southern regions.
In Penang, Sunway will open a 180-bed hospital-cum-nursing home in Seberang Prai by mid-2021 .
It will also build a 120-bed rehabilitation hospital in Paya Terubong.
"Construction will likely start at the end of next year. There are a few big hospitals in Penang but the state lacks rehabilitation centres for stroke and heart patients, among others. This is the market that we are targeting in the northern region."
In Johor, Sunway plans to build a 300-bed hospital in the RM12 billion Sunway Iskandar, a joint-venture (JV) township development between the group and Khazanah Nasional Bhd.
Lau said construction would commence in the third quarter of next year.
"Sunway Iskandar is a JV project with Khazanah, but for the hospital, we will build and operate it on our own," he said.
Sunway will also develop a 200-bed hospital coupled with assisted living facilities and a nursing home in Tambun, Perak, as well as a 250-bed hospital in Kota Damansara, adjacent to Sunway Nexus.
"The hospital in Tambun may commence construction in the third quarter of next year, while the one in Kota Damansara is expected to be ready by end-2022.
"We are also planning to build a hospital in Kota Baru. It has been approved by the Health Ministry," added Lau.
Source: New Straits Times
Back