Sunway Medical Centre begins COVID-19 vaccination for teenagers
11 October 2021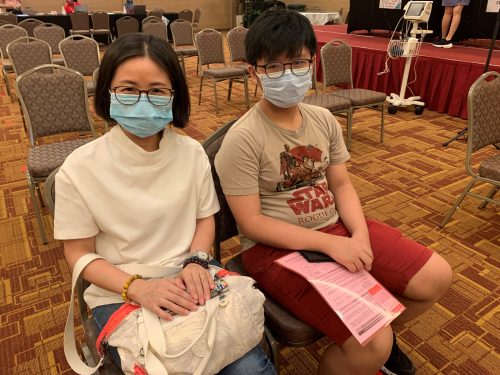 In support of the continuous efforts in COVID-19 National Immunisation Programme, Sunway Medical Centre has resumed the role of a private hospital vaccination centre or Pusat Pemberian Vaksin Hospital Swasta (PPVHS).
This time around, the hospital will be administering 500 COVID-19 doses daily for teenagers aged from 12 to 15.
"We have been involved since Phase One of the National Immunisation Programme and are honoured to be given the opportunity once again in supporting COVID-19 vaccination efforts to keep young Malaysians safe," commented the hospital's CEO Bryan Lin.
"This is also timely with schools re-opening, economic sectors slowly recovering and adapting to the new normal of living with this endemic."
Recall that Sunway Medical Centre was a vaccination centre or Zon Pemberian Vaksin (ZPV) in Phase One of the National Immunisation Programme by having inoculated frontliners from 12 private hospitals across the Klang Valley.
Under Phase Two and Three of the programme, the hospital was appointed as a PPVHS as well as managed a mega vaccination centre or Pusat Pemberian Vaksin (PPV) at the Sunway Convention Centre to inoculate the public.
To date, Sunway Medical Centre has administered about 348,500 doses.
Following the current exercise, the hospital's SunMed Convention Centre will once again be re-purposed into a vaccination centre. The hospital is fully-equipped and ever-ready to serve the needs of the nation.
A dedicated team of medical and non-medical professionals will ensure that the teenagers and their parents or guardians are served efficiently and comfortably in the coming weeks.
"Vaccination efforts have shown a positive effect in helping to curb the pandemic, but we must continue to observe the necessary public health measures such as social distancing, wearing a face mask and practising good hand hygiene," noted Sunway Medical Centre's medical director Dr Seow Vei Ken.
"This is very important and should not be taken lightly as we get on with our lives."
Driven by its passion to safeguard Malaysia, Sunway as a whole, has contributed close to RM60 mil since March 2020 to help the country battle the COVID-19 pandemic. – Oct 11, 2021
Source: Focus Malaysia
Back