Sunway Medical Centre invests over a quarter million ringgit in robots during pandemic
11 August 2021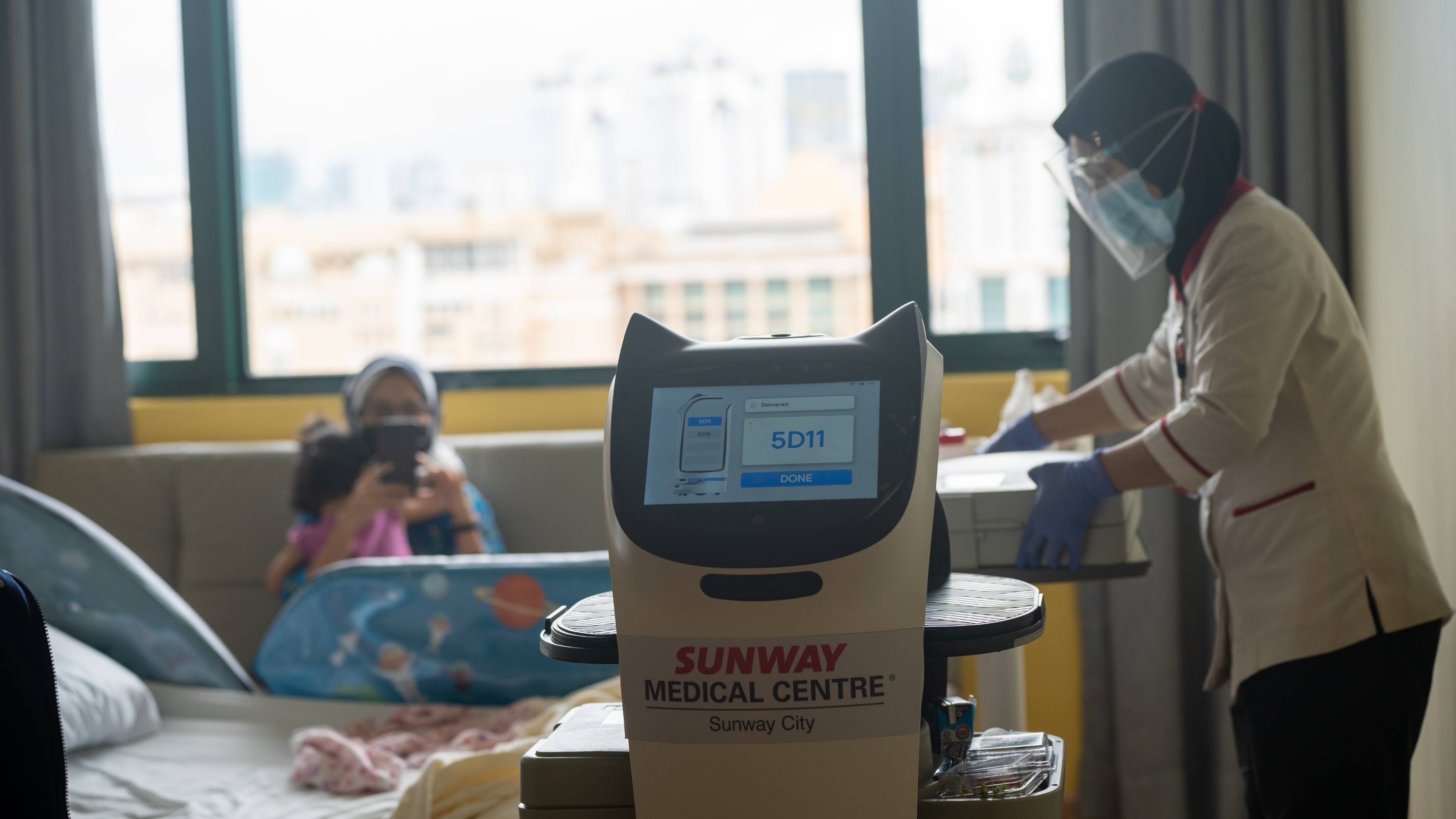 Sunway Bhd's healthcare unit Sunway Medical Centre has invested over RM250,000 to incorporate four units of autonomous robots in its hospital operations during the Covid-19 pandemic.
The amount for the advanced robot units known as BellaBot(s) serves as the medical centre's initial investment in helping its staff to focus on patient care, provide surge capacity during peak demand and improve overall operational efficiency, its chief executive officer (CEO) Bryan Lin said at a virtual press conference today.
A live video presentation demonstrated that BellaBot, the first of its kind in the hospital's operations, can assist in delivering food three times a day to young patients and their caregivers during lunch, tea and dinner hours. With four stacked shelves for meal trays and customisable delivery functions, the machine's navigation system allows for safe navigation around the wards.
"For now, we have introduced the BellaBot to the paediatric wards. They will be rolled out to the adult wards eventually, as well as be used for the delivery of goods such as medication supply to the Covid-19-[infected] wards so as to reduce transmissions [to human employees].
"The robots will also be used as lobby ambassadors to greet patients and bring them from point to point in the expanding hospital. The robots are fluent in English and Mandarin, with the potential for more languages in the future," Lin said.
The introduction of BellaBot comes after Sunway Medical Centre bagged Frost & Sullivan's 2021 Malaysia Smart Hospital Company of the Year title at its Asia-Pacific Best Practices Awards in June for innovative and purposeful use of smart hospital technology.
Lin said that Sunway Medical Centre had since the outbreak of the Covid-19 pandemic diligently invested in integrating smart hospital technology in robotic process automation and initiatives to improve standard operating procedures (SOPs) for operational efficiency, state-of-the-art medical equipment, virtual care services, customised in-patient meal orders and online appointment bookings.
In March, the hospital became a designated Covid-19 vaccination centre during Phase 1 of the National Covid-19 Immunisation Programme (PICK), where it administered vaccines for medical frontliners across 12 private hospitals.
Now in Phase 3 of the programme under ProtectHealth, Sunway provides Covid-19 innoculation as a Pusat Pemberian Vaksin Hospital Swasta (PPVHS). In June, Sunway Medical Centre also took over operations of Sunway Pyramid Convention Centre's mega vaccination centre (PPV) in vaccinating thousands daily in a bid to help the nation to achieve herd immunity.
Source: The Edge
Back