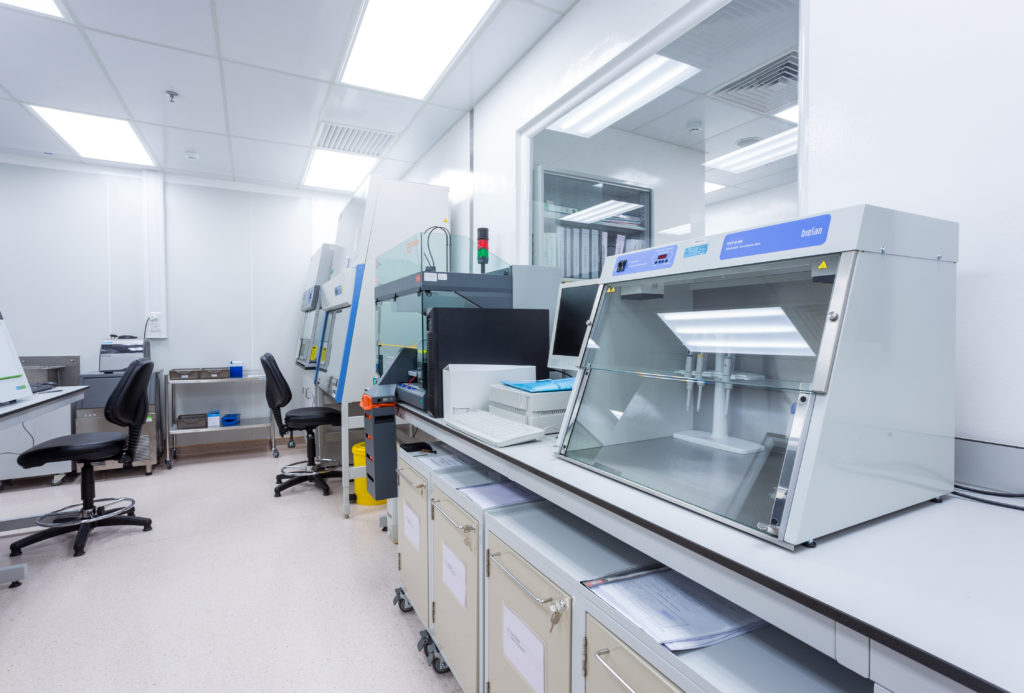 Sunway Medical Centre laboratory is Malaysia's first private hospital laboratory to be awarded with MS ISO 15189: 2007 accreditation standard for the scope of Chemical Pathology, Hematology and Microbiology. The Department Of Pathology and Laboratory Medicine offers a range of laboratory services covering both routine and specialist testing. Our extensive testing procedures are performed to help physicians diagnose disease and monitor patient care. We have a team of Consultants to facilitate and sustain the outstanding quality of SunMed Lab.
For more information, visit us at:
https://www.sunwaymedical.com/lab/
Services & Procedures Offered
Pre-testing Services
Stat services – We attend to urgent requests on selected tests if it is indicated by the physician.
Logistics – We also provide pick-up of specimens from GP clinics and referring hospitals.
Client services and enquiries – We provide customers with information that gives them a better understanding of the lab test(s) or procedure(s) they may require.
Blood donation – We provide blood donation services in the lab and also conduct on-site blood donation drives to interested institutions or societies.
Referral services – We refer specimens to various referral laboratories for tests that are not performed in our laboratory.
Point-of-care testing services – We provide point-of-care device(s) and rapid tests to GPs and specialists that include competency training for the users.
Testing Services
Chemical pathology and immunology – We provide both routine and specialised chemistry testing such as those on lipid, liver, kidney function, tumour and cardiac markers, metabolic and hormones. We also provide urine testing and tests for other bodily fluids.
Haematology and transfusion services – Tests include but are not limited to blood count, blood film, bone marrow and trephine biopsy, coagulation, blood grouping, antibody screening, and transfusion of a wide range of blood and blood products including autologous transfusion.
Microbiology, virology and serology – We provide culture and sensitivity testing on most clinical specimens. We also conduct rapid testing such as dengue serology, rotavirus, and TB antibody. We also perform serological tests on infectious diseases such as HIV.
Anatomic pathology and cytopathology – We offer routine and complex specimen testing with both basic and Immunohistochemisty stains. Frozen section and second opinion services are also available. Cytopathology tests include liquid based cytology, pap smears, Fine Needle Aspiration Cytology, and fluid cytology.
Post-Testing Services
Laboratory reports – Routine tests are usually completed within 1 to 3 hours and delivered to the appropriate clinic or ward. The turnaround time for external referral tests range from 3 days to 3 weeks.
Advisory services – Trained personnel provide advice on test procedures prior to test ordering. Pathologist(s) and/or the right specialists provide clinical advice on the interpretation of all test results.
Quality indicators and benchmarking – The lab monitors turnaround time, customer satisfaction, critical values reporting, and blood and blood product wastage analysis. We also benchmark our performance against available data from other labs.
Function/Why Patients Need Us
A blood test is a lab analysis of the elements in your blood. Blood testing is one of the most important diagnostic tools for doctors to detect the risk of diseases and help them to:
Evaluate how well organs—such as the kidneys, liver, thyroid, and heart—are working
Diagnose (or in some cases, rule out) diseases and conditions such as cancer, HIV/AIDS, diabetes, anemia and coronary heart disease
Find out whether you have risk factors for heart disease
Check if a condition is responding to treatment
Check the body's functions such as liver and kidney function when you are taking certain medicines which may cause side-effects
Keep track of how well a condition such as diabetes or high cholesterol is managed
Check your blood group before receiving a blood transfusion