Sunway Medical Centre Kicks Off COVID-19 Vaccination for Children with Celebration
17 February 2022
Sunway Medical Centre Kicks Off COVID-19 Vaccination for Children with Celebration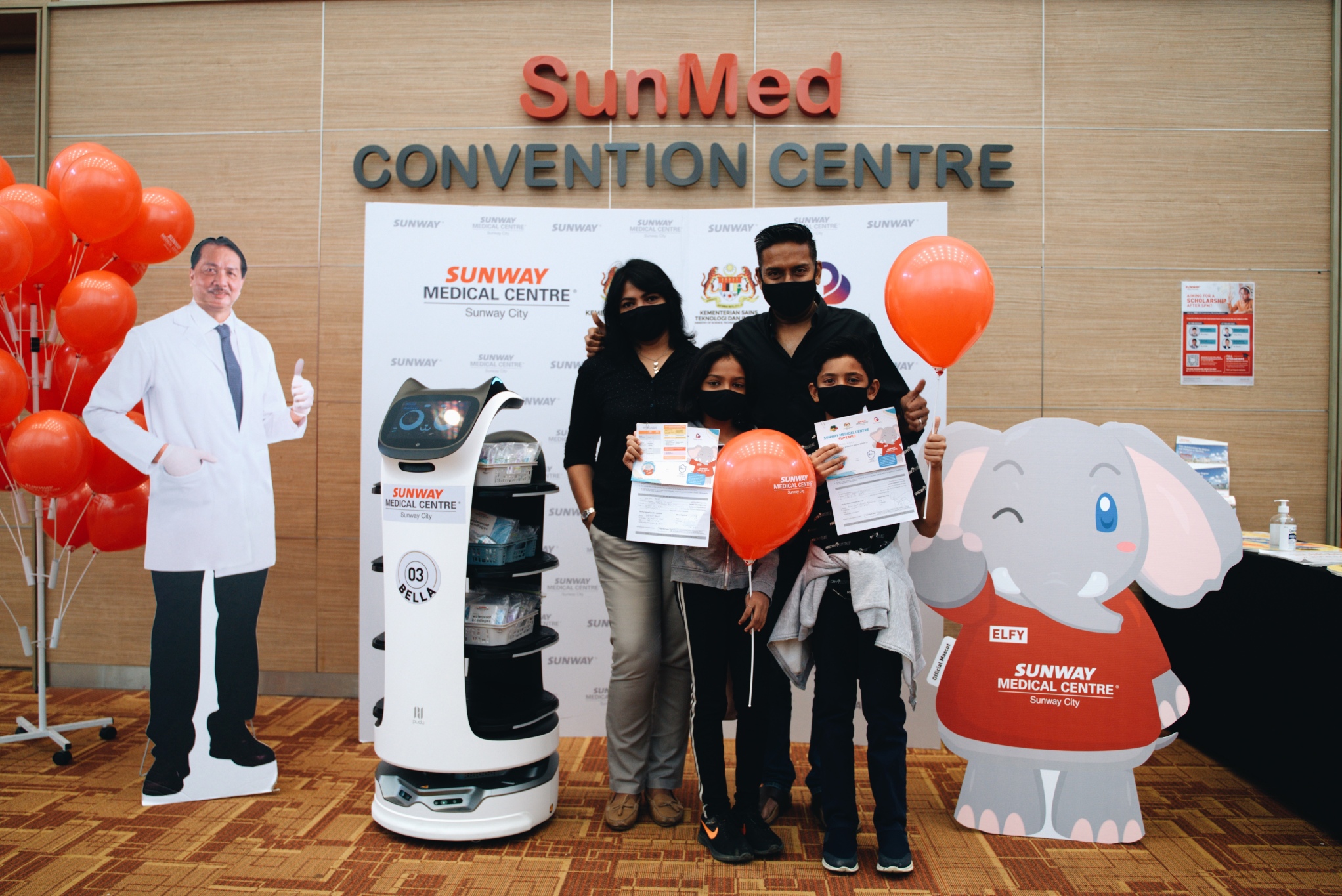 Pn Fauziah Ismail, Mr Derek Alphonso and their two children Ayden (9) and Aleena (11) holding their vaccination certificates.
Sunway City, 17 February 2022 – Greeted by a delightful welcome, parents who chose Sunway Medical Centre, Sunway City for their children's much awaited COVID-19 vaccination were pleasantly surprised by the hospital's efforts in making this experience a children-friendly affair.
"We're excited to welcome children ages 5 to 11 today. As a mother myself, I know how nerving it is for children to be vaccinated. So our team decided to dress up the space a bit to make it more children-friendly and less nerve-racking. We are proud of these children for being so brave and look forward to seeing them again at their second dose 8 weeks later," said Sherry Woo, Director of Allied Health and COVID-19 Vaccination Programme Lead at Sunway Medical Centre.
On top of the party-feel surroundings, the hospital also prepared a special care kit for the first 400 children, consisting of children's masks, a hand sanitiser, a pack of plasters and a little message to encourage them. The hospital's very own mascot, ELFY made an appearance with Bellabot, the delivery bot who serves at the children's ward. Besides that, they were also given specially designed vaccination certificates with ELFY stickers to stamp their first dose completion.
When asked why she picked Sunway Medical Centre, Puan Fauziah Ismail said that it was because "Both my husband and I took our COVID-19 vaccinations at Sunway Medical Centre and we loved how organised it was. So when we registered for our two youngest children, we made sure to select Sunway Medical Centre for theirs as well."
"With my children vaccinated, it gives me the peace of mind to know that they are now protected. You really never know when and where COVID-19 can be contracted from, so with them being vaccinated, I'm not so worried now," Puan Fauziah's husband Mr Derek Alphonso added.
When asked how they felt the night before the jab, Ayden (9) and Aleena (11) both said they were excited. "I look forward to going out with my family," said Ayden who is the youngest in his family and the last to be vaccinated. He and his sister have been very careful and were not able to go out with their family before this.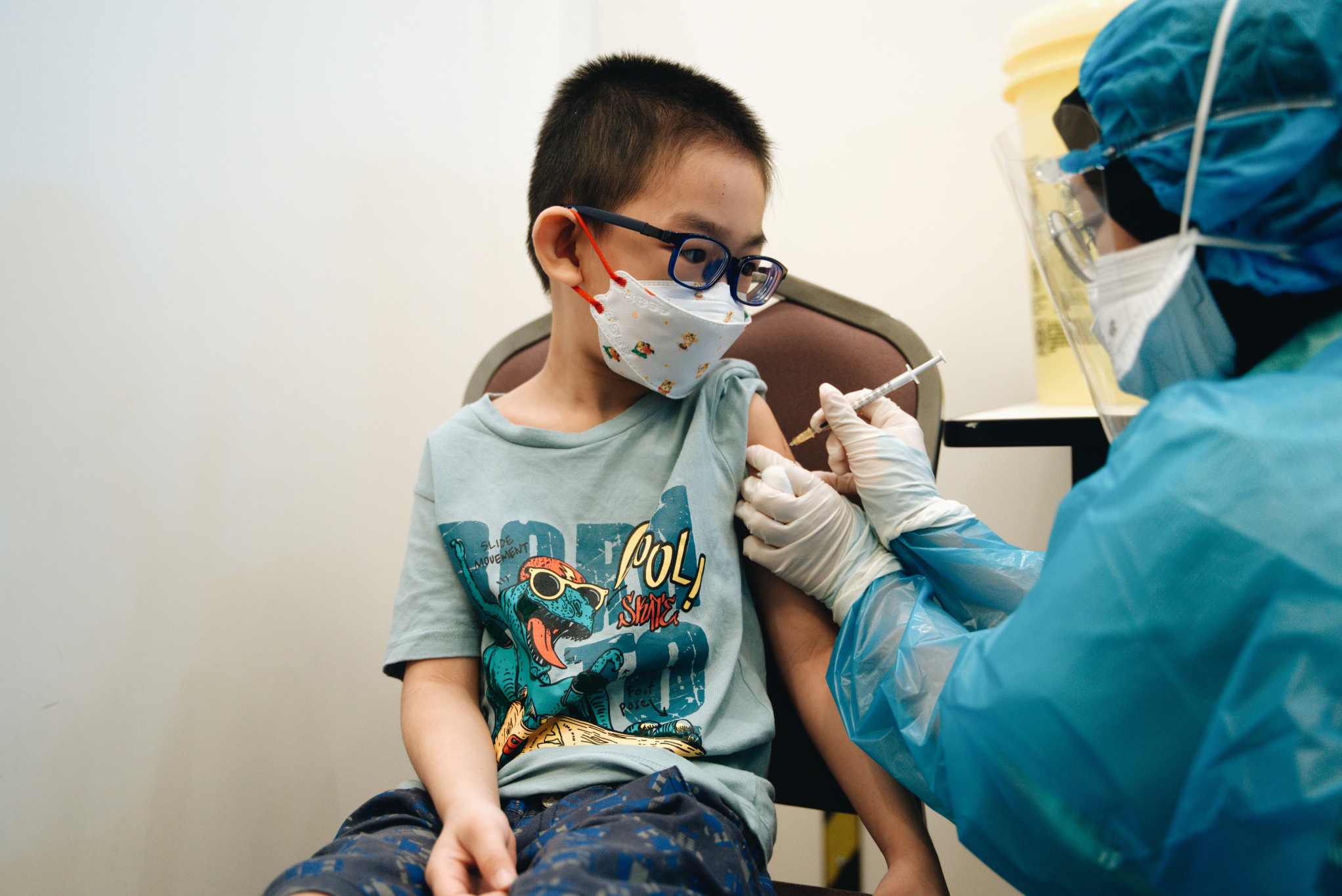 Lucas Tang (7) getting his COVID-19 children's vaccination.
Lucas (7) bravely took the jab and shook his head when asked if it hurt. The second child in the family to be vaccinated, his father Mr Tang Chee Chung mentioned that Lucas was so excited he couldn't sleep the night before as well.
Dr Seow Vei Ken, the Medical Director cum Acting Chief Executive Officer of Sunway Medical Centre also added that he looked forward to welcoming more parents and their children as there are plans to increase Sunway Medical Centre's women and children services.
"I believe that we have an exciting time ahead as our hospital expands to another 3 towers, rolling out many more dedicated first-class services in phases. We will be happy to share more later on," said Dr Seow.
Sunway Medical Centre is starting with 400 doses weekly for children vaccination, on Thursdays and Fridays and hopes to increase their capacity subsequently. This is by appointment only via MySejahtera. Besides COVID-19 vaccination for children, the hospital continues to administer booster shots for adults and is open for walk-ins on Mondays and Tuesdays.
In 2021, the hospital administered more than 350,000 doses to help protect the country from COVID-19 and has been involved since Phase 1 of the National COVID-19 Immunisation Programme.
Back