Virtual Parentcraft Classes
01 December 2021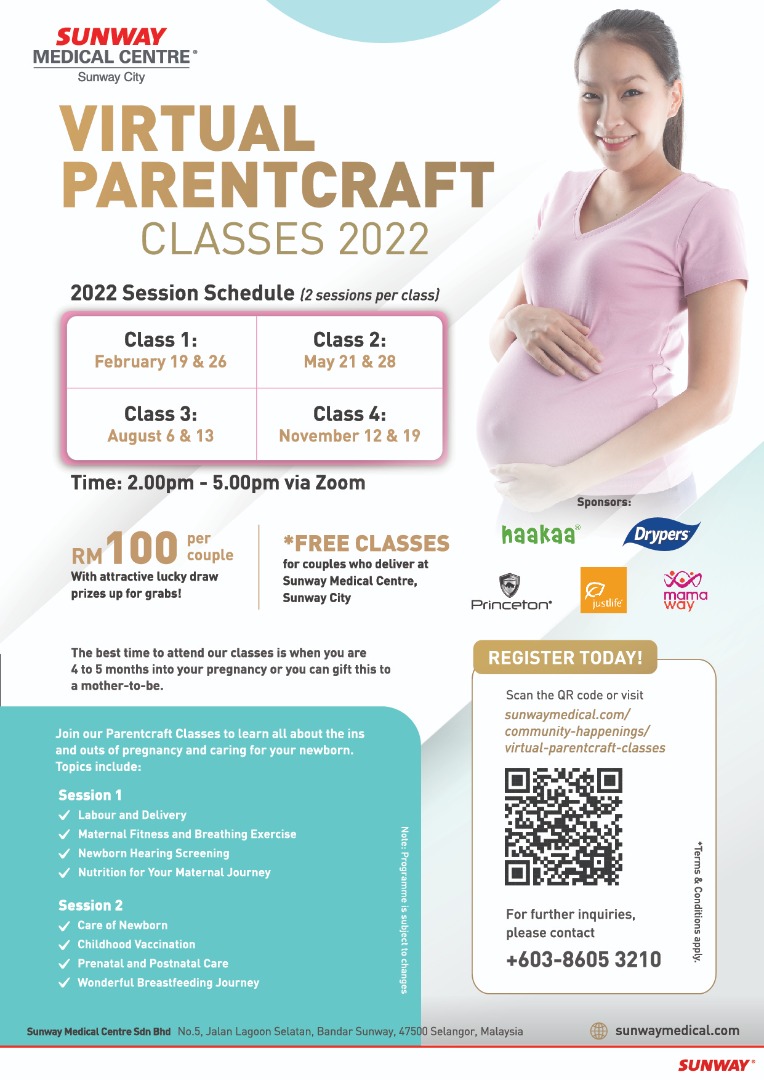 Becoming a parent is one of the most exciting times in your life!
Join our Parentcraft Classes to learn all about the ins and outs of pregnancy and caring for your newborn. The best time to attend our classes is when you are 4 to 5 months into your pregnancy or you can gift this to a mother-to-be.
COMPLIMENTARY Parentcraft Classes for couples who deliver at Sunway Medical Centre, Sunway City!
 For reimbursement, please bring along your Parentcraft Classes' receipt during your discharge after delivery.
TIME

2.00PM – 5.00PM

REGISTRATION FEE

RM100 /per couple

Non-refundable and non-transferable
PROGRAMME
SESSION 1

SESSION 2

2.00pm - 2.45pm - Labour and Delivery

2.45pm - 3.15pm - Nutrition for Your Maternal Journey

3.15pm - 4.00pm - Maternal Fitness and Breathing Exercise

4.00pm - 5.00pm - Newborn Hearing Screening

2.00pm – 2.45pm - Childhood Vaccination

2.45pm – 3.30pm - Prenatal and Postnatal Care

3.30pm – 4.15pm - Care of Newborn

4.15pm – 5.00pm - Wonderful Breastfeeding Journey
* Subject to changes
SCHEDULE
FEBRUARY 2022 (Registration Closed)

Session 1: 19 Feruary 2022
Session 2: 26 Feruary 2022

MAY 2022

Session 1: 21 May 2022
Session 2: 28 May 2022

AUGUST 2022

Session 1: 6 August 2022
Session 2: 13 August 2022

NOVEMBER 2022


Session 1: 12 November 2022
Session 2: 19 November 2022
REGISTRATION AND PAYMENT METHOD
Step 1: Fill in the registration form via
Available forms at the registration counter, 2nd floor OPD, Tower B

Step 2: Payment via
Cash / Credit card – Please proceed to 2nd floor OPD cashier counter at Tower B

Online banking / cash deposit – Please email the necessary documents as stated below to sunmedpr@sunway.com.my with the following bank details:
HSBC Account: 352-308167-101
Account name: Sunway Medical Centre Sdn Bhd

Proof of payment

Photocopy of I/C – front and back
REPLACEMENT
Participants who could not attend one of the classes due to unforeseen reasons are allowed to replace that class in the following session. Kindly inform in advance for further arrangement. Any cancellation will not be refunded.
CONTACT
Corporate Communications Department
Sunway Medical Centre
+603-8605 3210
sunmedpr@sunway.com.my
Back